MacArthur High School - San Antonio Texas
Class Of 1970
In Memory
Lynette Transou (Putnam [Teacher])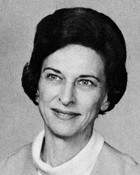 LYNETTE TRANSOU PUTNAM
Lynette Transou Putnam passed away after a brief illness on Saturday, November 21, 2009 at the age of 85. She was born Ann Lynette Taylor on October 22, 1924 to Eunice Abbott Taylor and Walter Barbee Taylor in Arlington, Texas.

Graduating from Arlington High School in 1942 she started college at N.T.A.C. (now The University of Texas at Arlington). She earned a BBA degree from The University of Texas at Austin in 1946.

After college she went to work for Delta Airlines as a flight attendant. She left Delta when she married Lewis Cole Transou, Jr. on October 19, 1948.

They had three daughters and lived in Atlanta, Georgia until a divorce in 1959, at which time Lyn moved with her children to San Antonio, Texas to be near her sisters.

Starting a new career with HEB Food Stores in their Personnel Department, she also served as the Secretary to the San Antonio Personnel Association.

In the mid-sixties she was asked to start a vocational office education program at Burbank High School, teaching there for several years before being invited to launch a similar program at MacArthur High School.

Lyn started a new chapter in her life by marrying Lt. Col. Royal Augustus Putnam, USAF (Ret.) on January 27, 1979.

After retiring from teaching she started working full time for Century 21 Real Estate where she achieved million-dollar sales status. She soon started her own real estate company, Putnam Properties, and enjoyed helping old friends and new friends sell or find new homes.

In recent years, finally retired, she loved spending more time with her family and taking her daughters on trips to Alaska, Tahiti, Mexico and Las Vegas.

Preceding her in death are her parents, her husband Roy Putnam, former husband Lew Transou, granddaughter Taylor Lee Burchfield, her sister and brother-in-law Elaine and Leonard Carol, and her brother-in-law Murray Winn.

Surviving her are: her daughters Lynda Transou and husband Gregg Loso of Dallas, Ann Burchfield and husband Andy of San Antonio, Lane Transou and Mitch Robb of Houston; her grandchildren Andrea Burchfield, Katie Burchfield, Laura Burchfield, Mark Loso and Mike Loso; great-grandson Harlan Loso; her sister Barbee Winn Weems and husband Lin Weems of Boerne; her stepchildren Peggy Linney and husband Rhea of Florida, Patsy Putnam of Florida, Mary King of Arkansas, Betty Yancey and husband Bob of Michigan, Barbara Yancey of Pennsylvania, Roy Putnam of Florida; her nephews Tom Winn, Steve Winn, Randy Winn, Dale Carol and Galen Carol; a large extended family and many, many friends.

A life-long UT Longhorn football fan, we know she will be cheering her Longhorns on from above.

Visitation will be held on Tuesday, November 24th from 4:00 P.M. to 5:00 P.M. at Porter Loring on McCullough.
SERVICE
WEDNESDAY
NOVEMBER 25, 2009
2:30 P.M.
PORTER LORING CHAPEL

Rev. Dr. David McNitzky officiating. Interment at Sunset Memorial Park. You are invited to sign the guestbook at: www.porterloring.com
Arrangements with:
Porter Loring Mortuaries
1101 McCullough - 227-8221
www.porterloring.com


Published in the San Antonio Express-News on 11/24/2009.