MacArthur High School - San Antonio Texas
Class Of 1970
In Memory
Charlie Ehninger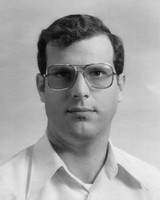 CHARLIE M. EHNINGER III
Charlie M. Ehninger III, 45, of Henderson died Thursday in a local hospital. He was born March 5, 1952, in the Panama Canal Zone. A resident for five years, he was a Vietnam War Air Force veteran and a student at UNLV's College of Architecture.

He is survived by his wife, Yoko; two daughters, Cathrine Harris of Fort Eustis, Va., and Stephine Ehninger of Henderson; one son, Monty Ehninger of Henderson; his mother and stepfather, Mildred Aileene and Charles Oelkers of Pleasanton, Texas; one sister, Diana Ehninger Hindt of Katy, Texas; four brothers, Richard M. Ehninger and Eric W. Ehninger, both of San Antonio, Robert G. Ehninger of Gulfport, Miss., and David E. Ehninger of Duncan, Okla.; and one grandchild.

A memorial service was scheduled at 1 p.m. today in Central Christian Church. Palm Mortuary, 800 S. Boulder Highway, Henderson, is handling arrangements.

Published in the Las Vegas Sun on 03/09/1998.