MacArthur High School - San Antonio Texas
Class Of 1970
What's New
Posted on: Oct 15, 2021 at 10:01 PM
Dear Steve

Hope you have a great day tomorrow. There sure were a number of us born in Oct.

Have a great day
Steve
Bill

Hope you have a great birthday tomorrow. Great people born in October.
Steve
Posted on: Oct 10, 2021 at 5:08 PM
hey man good people were born today, Hope you have had a good day. Enjoy retirenment. I have for about 4 years now.

Steve
Posted on: Oct 03, 2021 at 2:07 PM
Happy Birthday Ted
Warm regards,
Katherine
Posted on: Oct 10, 2021 at 10:32 AM
Happy Birthday cowboy!..Hope it's a great one. Cheers!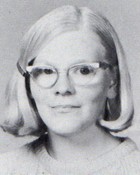 Happy Day!!! Hope it's a good one...Cheers!
Posted on: Jul 20, 2021 at 9:19 AM
Happy Birthday Cowboy...Hope you have a great one!
Happy Birthday, Tony. Another year around the sun! Congratulations. Hope you're enjoying life.
Hhope you have had a great birthday.
Steve
Hope today is the day of days, Happy Birthday Ken.