MacArthur High School - San Antonio Texas
Class Of 1970
In Memory
Brian Taylor VIEW PROFILE
Below is Brian's obit that was put out by Margaret B. Steele yesterday (9/13/17)
Brian Delma Taylor, 65, died peacefully on September 6, 2017 at his loft in Peekskill, NY. A supremely-...gifted multi-instrumentalist, conductor, composer, arranger and producer, he was the owner of SoundPainter Studios in Peekskill. A painter as well, he was a much-loved member of the Peekskill artist community.
Brian Taylor was born on February 22, 1952, in the back seat of a taxi during a blizzard, in Boise, Idaho. He was a graduate of MacArthur High School in San Antonio and the University of Texas in Austin. An award-winning flutist, he moved to New York to study with Julius Baker of the NY Philharmonic.
During a long NYC freelance career, Brian Taylor performed with symphony orchestras, on Broadway shows, on numerous studio recordings and with the Radio City Music Hall Christmas Spectacular.
He married keyboardist/composer Bettina Covo in 1981, and together they founded the acclaimed chamber music group, The Baroque Invention. They later formed the classical/jazz/rock fusion band, Chromatica, which performed all-original music and released an album, Alpha, in 1988. He and Ms. Covo separated in 2010 but remained close friends and musical collaborators. At the time of his death, they had just completed an album of original music for meditation.
Brian Taylor wrote music for the Big Apple Circus, Cirque Le Masque, Lincoln Center Outdoors, and many others. He specialized in full-service music production for both professional musicians and aspiring artists. Blessed with perfect pitch and prodigious talent, he transformed the merest wisps of clients' song ideas into full arrangements and beautifully-produced finished recordings. The advent of digital music production set him free, giving him the ability to self-produce complex rhythm tracks and fully-orchestrated compositions. He was always most at home in a recording studio.
In 2010 he moved to Peekskill and added a new career as a singer/actor, debuting as Daddy Warbucks in the musical Annie at the Paramount Theater. He subsequently acted in numerous local productions, while continuing to churn out music as both performer and composer/arranger. He released his self-produced solo album, SoundPainter Odyssey, in 2013. At the time of his death, he was working on an album of his orchestral compositions.
There will be a silent vigil for Brian Taylor on Saturday, September 16th during the hours of 2pm-7pm at the loft of Lana Yu, 802 South Street, Peekskill, NY. All are invited to sit with his ashes in sacred space and create art, messages, prayers and poems while listening to recordings of his music from the span of his career.
Brian Taylor was the father of two children from an early marriage. He was predeceased by his son Joshua. In addition to Ms. Covo, he is survived by his brother Mark Taylor, his daughter, Charissa Winham, his grandchildren Hayley Fishbeck, Peyton Fishbeck, Easton Fishbeck and Aria Clements, his cat Zoe, his beloved partner Emily, and many friends.
**************************************************
Below is information about a tribute to Brian to be held in New York. Interest has been expressed about doing something here in San Antonio. If anything develops on same, I'll will provide an update.
There will be a silent vigil for Brian Taylor on Saturday, September 16th during the hours of 2pm-7pm at the loft of Lana Yu, 802 South Street, Peekskill, NY. We will join together in sacred space to sit with Brian's ashes and listen to recordings of his music from the span of his career. His beautiful music will inspire us to meditation, messages, prayers, poems and art-making. Lana will provide art supplies. Come stay a few moments or a few hours as we create in community a loving art experience tribute to Brian.
**************************************************
Below is information from Mike Luker, Mac CO69 (9/12/17):
Funeral Home Arrangements for Brian Delma Taylor.
I found out that Brian has been cremated and that his wife will pick up his ashes today, 9/12/17. Notes can be sent to the funeral home who will print and give to Brian's wife. The details for the funeral home are below this message. The funeral home was not aware of any planned services.
Clark Funeral Home, Yorktown Heights, NY...
www.clarkfh.com
email: clarkfuneralhome@yahoo.com
*****************************************************
Below is I post I found today (9/9/17) on the http://peekskillpost.net/.
Butch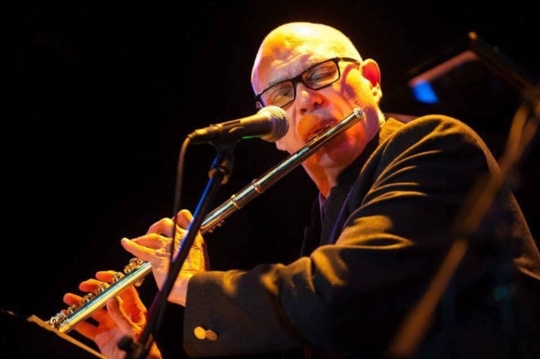 Brian Delma Taylor (Photo: Sol Miranda)
EMBARK Peekskill founder Sol Miranda posted a heartfelt message to honor the memory of Peekskill resident Brian Delma Taylor, who passed away earlier this week. Her message, which was posted on Facebook, is as follows:
"The EMBARK family is devastated by the sudden passing of our board member, beloved friend, flutist, composer, teacher, actor and community volunteer, Brian Delma Taylor. We have lost a gifted artist and human being. Brian's passion and commitment to Embark had no match.
From his "A Prayer for the Living" concerto debut in Westchester at the Peekskill Riverfront during our Performing Arts Festival in 2011 on the tenth anniversary of 9/11; to his amazing Concert Finale of our second Performing Festival in 2012 featuring his jazz and world music compositions; to his CD Release Party, to his service as a board member and even setting up sound at so many of our events and at the Downtown Outdoor Music Series (Block Party) in 2014, Brian was part of the heart of EMBARK. His compassion and dedication also extended to the local Salvation Army family, where he helped with the chorus and serving meals. He also taught at several music studios, collaborated with other artists and organizations, and helped produce the music of many.
Our hearts go out to his family, friends, students and all who were inspired and transformed by our dear beloved Brian. Rest in Peace as you compose and conduct a choir of heavenly angels—let us hear it in the wind, please.
Click here to see Brian's last Profile entry.